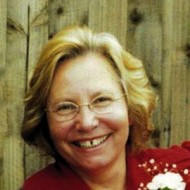 "Leaving Home" – A Chetnik father is reunited with his Serbian family
The following personal account by Angeliya Kuraica, the daughter of a Chetnik freedom fighter, was published in the Vaskrs (Easter) issue of "Britic – A British Serb Magazine" April 2010
From the editors of Britic:
Anđelija Kuraica arrived in Britain in 1957 aged just 15 years old. She married Petar Zarač in 1964 and they went on to have 3 children, Milan, Milena and Rajko. Anđelija never went to school in England and started work almost immediately. She worked up to retirement, often doing two jobs at a time. She has been very active with the Pokret Chetnika since coming to Britain and has held many positions within the organisation, always working closely with the Church committee and the Serbian community. Anđelija is now 67 years old and retired. She devotes much of her time to the Church and is currently the President of the Derby Parish.
"Leaving Home"
by Angeliya Kuraica
Thinking back to when I was two years old, I have a few vague images. I remember sitting on the floor and eating my dinner when I was too small to reach the table while the rest of the family sat around the table eating theirs.
I can also remember my father's rifle propped up by the door, his back turned to me. He wore a green army cap. That was all I could remember of him before he left.
As a child I lived in the beautiful countryside of a big round valley, called Plavno which was in Dalmatia, in the area of Yugoslavia between Croatia and Bosnia. It had been part of the old Austrian Military Frontier or "Vojna Krajina" (Voynah Krynah) and was about 5 miles in diameter and round like a plate. Forty-four villages surrounded the valley, and mountains rose all the way around it.
Our valley was rich in all kinds of produce. There were corn and wheat fields, vineyards, orchards, and vegetable gardens. Water springs were everywhere, and water mills were scattered over the meadows.
One of the very early schools in Dalmatia was opened there in 1770 by Dositej Obradović, the Serbian academic. Later, in 1878, an Englishwoman, Miss Adeline Pauline Irby from Norfolk, built a big new school in Plavno. In that school, I had some happy times – and some sad ones.
After World War II, the children whose families had fought against the Communists were made into examples. The people in my country had lots of religious traditions for Christmas, Easter and saints' days. For the Communists, getting rid of these customs was proving to be very hard.
Very often my teacher spoke against the side on which my father had fought. I knew my father, Josip Kuraica, had served in the Serbian Chetniks under Vojvoda Momchilo Djujich of the Dinar Division, and I stood by my desk, a lump in my throat and red-faced, while the teacher would say, "Her father and others believed in God. Anđelija was in Church yesterday."
He would continue, "There is no God. You are not allowed to go to Church! Have you seen God there?"
I couldn't speak, but I thought, "If only my dad were here, they would leave me alone."
As the teacher spoke, everybody laughed except my friend Dushanka. One day, she quite casually said, "Sir, the wind is blowing. Can you see it?"
He was shocked by her question and ordered us both to sit down.
That day, like many before, I told my neighbours to go home without me. Then I went to sit by the wall or near a bush to try to work out the situation between home and school.
I was happy at home with my grandfather's teachings. I just loved our traditions except for my unhappy times at school when we would have "moral guidance" instructions.
At home, I was taught to believe in God, and I went to Church with my mother. Trying to balance home and school, my mind was doing overtime.
In Church, my eyes searched from icon to icon. I thought all of the saints were looking at me with their beautiful, calm eyes. I couldn't understand why it was so wrong to go to Church when I felt so happy there. There were too many questions and no answers.
When I was alone, all I could think of was my father. If only I could see him! Whenever I met a stranger, I looked into his face to see if, by some miracle, he could be my dad. I was always searching for the impossible.
The nice clothes from England that my dad sent me were a constant reminder of him. That was more annoying for the Communist children. Many were the tears I shed where no one knew – alone in the attic.
When I was sitting quietly in my attic and looking through my window, I watched the stars. I tried to imagine that my dad in England was looking at the same stars. Then I felt happy and close to him.
At other times, I wasn't sure at all that he could see those same stars. I would think that maybe he wasn't even looking. Then I felt very sad and shed my heartfelt tears.
When I was fifteen, we learned that some ladies with children were trying to get passports to go to England and join their husbands who, like my father, had left Yugoslavia. My mother asked me if I would like to go to England, but I wasn't sure because I knew I would have to leave my home and my family for something very different.
I also knew that, if I didn't go, I wouldn't be able to see my dad ever. In the end, he won my heart. I finally said "Yes."
For many reasons, our family didn't want us to go. First of all, we had a good home and a good standard of living. Secondly, and perhaps more importantly, my grandparents couldn't bear to lose my mum, sister and me. They had lost my dad to the world, and they knew that they would never see him again, but to let us go would be a tragedy for them.
Those days it was very difficult to get passports in a Communist country, but it had to be done. We kept our secret plan from the rest of the family too. Only Mum and I knew.
First Mum and I went to see the Mayor of Plavno because not only was he a distant cousin of my dad, he was also a Communist war hero. Mum told him what she was planning to do and asked if he could help us.
He listened and said that he could, but he warned her that it was going to be difficult. He said we would have to bribe some officials to keep them quiet. She understood.
When we got our passports, Mum took my sister Milka and me to town and had beautiful, deep blue dresses made for us. They were long-sleeved and nicely fitted at the waist. The very flared skirts came down to our knees.
When we brought them home, my mum hung them in our bedroom and covered them with our jackets. The next morning, my grandmother, Baba Đuja, came into our bedroom, and when she saw those dresses, she guessed that we were getting ready to leave.
She questioned us. When we answered, she started to cry. We said, "Baba, you mustn't tell anybody yet or Mum will be very upset."
That night, when the evening meal was prepared by our baba and all the family was there, Baba told Grandfather and the rest of our family that Mum was going to take us away to England. Baba started to cry again.
"You can't do that to us," she said to my mum. "Please tell us you will not. Please." Mum was quiet.
Without a word, Granddad's tears poured down his face. Marko Kuraica was a proud gentleman and well respected in the community, and seeing the tears on his face was enough to make the rest of us cry – except my mum.
It was only then that the daunting prospect of leaving home and going to a foreign country hit me too. Mum looked numb. No one felt like eating. Our news had come as a complete surprise to the rest of the family.
When several minutes passed, my granddad composed himself, turned to my mum and said, "Draga, is that true?"
"Yes, if I can", Mum replied. "We don't have our visas yet so, if certain people in authority find out, we might have problems, so you will have to keep it quiet."
But that would be impossible with Grandma constantly crying. It was decided that Uncle Ilija would go to Zagreb to get the visas.
Then Granddad started to cry again. He asked, "Is that what you really want?"
"It is."
"In that case, you and the children must go with Ilija before anyone finds out what is going on."
That evening all the family was crying. My grandparents were two very sad people, and then there was Uncle Milan, Aunt Marija, and Aunt Đuka.
The next day, on December 17, 1957, I remember being dressed in my bedroom with my head turned towards the wall. I was crying.
When they found out we were leaving, all of our neighbours came 'round. Everybody was crying. My friends were saying that they did not want me to go, and I didn't really know what I wanted. I wanted both: to go and to stay. But that was impossible. Of course, I had to go.
I remember scratching the paint from my bedroom wall and thinking that I would never see my room again. I thought, "This is my home. This is where I was born. Where am I going? Why?"
I didn't like this situation which forced me to choose. To me, life seemed very cruel. That was the saddest day in my life. I loved my grandparents and the rest of my family, and now it was time to leave them and go to some place called "England".
"England" didn't mean anything to me. The only thing I knew was that my father was there and my parents wanted to live a normal life as a family. In my geography class, I had seen a map of England, and I looked for the place we were going called Leicester. I had learned that England was mainly industrial and that the capital city was London, but that was all.
When we finally started to walk away from home, we left my grandfather in bed. He was so ill he couldn't come out of the house. He was crying and said that we had broken his heart. He told us that after my father had left our country and my Uncle Marko had died at the age of 28, without children, we were the only reason that he enjoyed living. Without us, all the hard work of building his home and farm suddenly had no meaning for him.
Grandma Đuja followed us with two of her friends on each side. She was crying her heart out. I was with my friends, and my sister with hers, walking down the valley with all of our neighbours. As we passed other villages, people came out, some crying, some sending their regards to their loved ones, some saying good-bye to us.
It was heartbreaking for me. I wanted to memorize every last look of my Plavno Valley and of my friends. That was going to be the last time I would ever see them and Plavno Valley.
When we arrived at the train station, my mum's sister and sister-in-law were there with all my cousins. It was complete chaos. Once more, I had to say good-bye to my home, my past, my family, my relatives, and my friends.
The feelings were choking me when the train started pulling out of the station. I felt that part of my life was left behind on the platform. I felt that my chest was going to explode. I was gasping for breath while we were waving good-bye to everyone and to everything we knew and loved. My throat was very sore, and I had a horrible pain across my stomach. I sobbed until I lost my strength only to find out it would be five days before I would see my long-lost dad.
December 21, 1957, would be the happiest day of my life. That day, at Victoria Station in London, my father was waiting to meet us. When my mum saw him she said, "Children, that is your father in the grey suit on the platform." He looked excited and anxious.
"He is the most gorgeous man I have ever seen in my life!" I exclaimed. It seemed too good to be true. After thirteen years apart, we would now finally be together, a family once more.
THE END
Meet the British Serbs of "BRITIC" – A British Serb Magazine! // A bit of Serbia in England
Aleksandra's Note:  The existence of "Britic", The British Serb Magazine, recently came to my attention. I'm excited about this! The relationship between the British and the Serbians has been a volatile one over the course of the last century. There's been "good" times and there's been "bad" times in that relationship. The U.K. is home to a number of Serbs who care very much about what's happening in the homeland and in the Diaspora. "Britic" is about building bridges and a bit of Serbia in England. Take a look!
Sincerely,
Aleksandra Rebic
http://britic.co.uk/index.php
*****
"ABOUT US"
"Britic" is a quarterly magazine distributed by print, online and email establish in 2008.
The magazine is produced by Serbs in the UK to provide a forum for all Serbs in the UK, with particular interest to British born Serbs, hence the name.
We are Aleks Simic and Stan Smiljanic editors of the magazine and owners of Britic Media Ltd. which owns the publication. We have no political affiliations that are relevant to Serb issues and will tolerate a variety of views being expressed in these pages provided they are not gratuitously offensive, libellous or just boring. We welcome contributions from anybody who can articulate a coherent point of view on a Serb related topic or provide an interesting commentary on a Serb related event.
Britic is not-for-profit.
Britic Media Ltd. is registered in England and Wales, Company Number: 06654032
Registered address: 30 Mill Street, Bedford, Bedfordshire MK40 3HD
******
MISSION STATEMENT OF "BRITIC"
On 1st January 2009, the Directors passed the following first resolution:
Britic Media Limited is a private UK company number 06654032 formed in 2008 by Aleksandar Simic and Stanislav Smiljanic, who are sole and equal shareholders and Directors.
A separate arm of Britic Media Limited was formed to own and operate Britic, a not-for-profit magazine. It is anticipated that it shall be funded primarily by advertising and merchandising. All financial losses shall be met by the owners and no other party. Any profits shall be reinvested in the magazine or projects with an associated interest or charitable causes.
Britic is initially based on a printed quarterly format, distributed free-of-charge directly to the door and electronic distribution. However, the format, delivery, and frequency will adapt to find a stable balance that meets its not-for-profit status.
The magazine is expected to be of greatest interest to British born Serbs and secondly Serbs living in the UK and further afield in particular other English-speaking countries with significant Serb communities. Interest from other former Yugoslav ethnic groups living in the UK is anticipated and welcome, although not specifically targeted in order to avoid a potential nuisance. Lastly, any UK resident interested in Serbia may be interested in Britic.
The aim of Britic is to inform, interest and to cultivate a forum and identity for all Serbs in the UK. Editorial content shall be almost entirely English language, which is the only language that is universally understood by the entire intended demographic.
The Directors are also the editors and ultimately take ultimate editorial responsibility. As such, either director editor can refuse or modify any editorial content for any reason. The magazine is independent of any external organisation and editors have no political affiliations that are relevant to Serb issues and will tolerate a variety of views being expressed in these pages provided they are not gratuitously offensive, libellous or just boring. As far as there is an editorial stance, it is pro-Serb, pro-Serbian Orthodox Church and with a specific focus on items of interest to British born Serbs.
http://britic.co.uk/index.php
*****
THE FOLLOWING COMMENTARY WAS PUBLISHED IN THE "REVIEW" SECTION OF THE "VASKRS 2010" ISSUE (April) of "Britic"
Dražа: First Press Victim
George Orwell's taboo essay eerily 'predicts' Yugoslavia's death by press
"Animal Farm" (1945) is one of The Great Books of the Western World, often read at school and the subject of two films. Along with his other famous novel 1984, author George Orwell offers us bleak visions of totalitarian societies.
Orwell's original preface to "Animal Farm" exposes the invisible hand of British self-censorship he sensed at that time. The preface cited Četnik leader Draža Mihailović falling prey to this censorship. It was felt so controversial that the preface was itself removed, seldom appearing in any editions of the book.
"Animal Farm" is a parable of the Soviet Union where the animals take over the farm and pigs become the ruling caste. At the time the novella was written, the British and the Soviets were fighting a common foe – Hitler. In his preface, Orwell accused the English intelligentsia of turning mute in order to appease Stalin.
Four publishers threw out "Animal Farm". One of the publishers sought advice from the Ministry of Information. An official cautioned against publishing at the present time (he later turned out to be a Soviet spy).
Orwell chose the example of wartime allegiance in Yugoslavia to illustrate his point. (These words were later censored.)
"A particularly glaring case was that of Colonel Mihailovich, the Jugoslav Chetnik leader. The Russians, who had their own Jugoslav protégé in Marshal Tito, accused Mihailovich of collaborating with the Germans. This accusation was promptly taken up by the British press: Mihailovich's supporters were given no chance of answering it, and facts contradicting it were simply kept out of print. In July of 1943 the Germans offered a reward of 100,000 gold crowns for the capture of Tito, and a similar reward for the capture of Mihailovich. The British press 'splashed' the reward for Tito, but only one paper mentioned (in small print) the reward for Mihailovich: and the charges of collaborating with the Germans continued."
The British press seeded a bias that later transpired to be a policy shift with profound consequences to Serbs. Up until 1943, Churchill had supported the royalist Četnik opposition. Towards the end of that year, British allegiance had swung to Tito's Partisans. The mud has stuck, for example Wikipedia cites Draža as "now primarily remembered as a World War II collaborator".
Was this the first example of Fleet Street seeding policy towards Serbia? It continues to play a pivotal role as "the blind leading the heavily armed" in the Balkan conflicts of the 90s. Orwell might have written this passage of those later conflicts:
"Anyone who has lived long in a foreign country will know of instances of sensational items of news…being kept right out of the British press, not because the Government intervened but because of a general tacit agreement that 'it wouldn't do' to mention that particular fact."
Britić readers will have a spectrum of sophisticated views on Draža's legacy. Orwell did not discriminate over what could rightfully be addressed, only that "the enemy is the gramophone mind, whether or not one agrees with the record that is being played at the moment".
http://www.britic.co.uk/current_issue.php?article_id=111