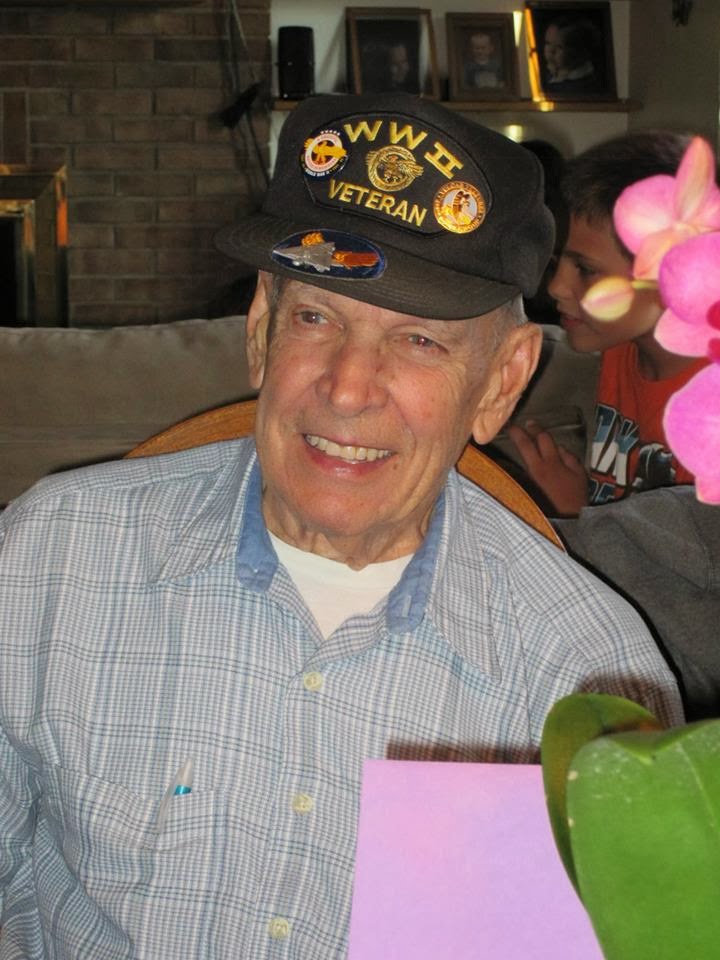 OBITUARY and FUNERAL ARRANGEMENTS – CURTIS "BUD" DILES, JR. / Being laid to rest on Monday September 15, 2014
FROM DIANE DILES HAMMOND
September 11, 2014
"I could not bring myself to type these words until now, but I think most of you already know. I lost my dear daddy Wednesday morning. The world has lost a great and honorable man…an American (and Serbian) hero. It doesn't seem real. As I left his hospital room Tuesday night, I prayed with him, kissed him on his forehead, held his hand, and told him I hoped he knew how very much I loved him and that he'd always be my hero. Although he stared into my eyes, he did not respond. I hope he understood. That was the last time I saw him alive. In my heart, I know he's in heaven, no doubt, still trying to spread the truth about what the Serbians did for America in WWII. And everyone will respond "We already know that, Bud… it's perfect up here. There are no lies. Your earthly mission is over".
"Dad's funeral is Monday [September 15, 2014], and he will have military graveside rites. He will be buried in his USA/Serbia shirt, and the Serbian land that Saša Jovanović gathered from the makeshift airstrip will be placed in the casket with him. As dad would want it, the Serbian flag will be on display (and of course, the American flag will be, too).
"I promise you, dad… I will carry your torch. Keep the light on for me, and we'll be home soon. I love you!
"Thanks to everyone for the overwhelming outpouring of love and support. You have been such a blessing.
"I've attached his obituary. Turn your sound on to hear the music."
Diane Diles Hammond
September 11, 2014
Curtis "Bud" Diles, Jr., age 89, of Huber Heights, Ohio passed away Wednesday, September 10 at Miami Valley Hospital after a long illness. He was born July 15, 1925 in New Boston, a son of the late Curtis and Lena Belford Diles, Sr.
He is survived by his loving wife of 66 years, Inez L. Pruitt Diles, whom he married in Portsmouth Sept. 25, 1948; children Dennis (Bev) Diles of Chaska, Minnesota, Teresa (Jack) Guidry, Janis "Diane" (Chuck) Hammond, and Tamara (John) Meese, all of Huber Heights; 15 grandchildren; and 7 great grandchildren. He is also survived by sisters Sonja (Bill) Rice of Reynoldsburg, Deloris Walker of Minford; and brothers Paul (Sarah) of Sarasota, Florida, and Alva "Sonny" (Jean) of Chillicothe; and many nieces and nephews.
He was a devoted, loving, and generous husband, father, and grandfather. His greatest treasure was his family. He delighted in sharing his great wisdom and always had an idea to improve things. He never stopped analyzing and believed that an idle mind was the devil's workshop. He was "Mr. Fix It" and was an exemplary machinist. No doubt, he is tinkering in heaven at this moment.
He was a dedicated member of the First Christian Church of Huber Heights. Although he often struggled to understand the message due to his hearing impairment, he faithfully attended "just to show whose side he was on". As he was ushered into heaven into the loving arms of Jesus, we know exactly which side he's on.
He was also a member of the VFW Post 3283, and an honorary Serbian. He was a veteran of World War II, a Staff Sergeant serving in the Army Air Corps from 1943-1945. He was shot down while in his B-24 bomber behind enemy lines over Belgrade Yugoslavia on September 8, 1944 in the Halyard Mission, but was rescued by the Serbian Chetniks lead by General Draza Mihailovich. Had it not been for Serbia, he and his descendants would not have been blessed with the gift of life. The details of this incredible rescue are documented in the book "The Forgotten 500", by Gregory Freeman. It was his life's mission to spread the truth to the world about the Serbians' loyalty to America in WWII. For his service, Curt received the EAME Theater Ribbon with 1 silver star, the Air Medal with 3 oak leaf clusters, the Purple Heart, and the Good Conduct Medal. The country of Serbia also recently presented him with the Order of Karageorge's Star with Sword for 70 years of exceptional service in spreading the truth about Serbia and its WWII and post-war struggles.
After graduating from Portsmouth High School, he briefly worked at Wolford Machine Company in Portsmouth prior to being drafted into the service. After the war, he returned to Wolford's and also worked at Empire Detroit Steel Corporation in New Boston. In 1974 he moved to Huber Heights where he managed the machine shop at Techmet/LaserMike, from which he retired in 1989.
In addition to his parents, he was preceded in death by his sisters Doris Diles, Edna Stiltner, Lorraine Traber, Carolyn (Sue) Potts; and brothers Don, Jimmy, and Travis Diles.
Funeral services will be held at 1 pm Monday [Sept. 15, 2014] at the Ralph F. Scott Funeral Home in Portsmouth with Pastor David McClary officiating and interment in Memorial Burial Park. Military graveside rites will be conducted by the James Dickey Post #23 American Legion Honor Detail.
In honor of Mr. Diles' service to our country, the flag of the US Air Force will fly at the funeral home, and the flag of Serbia will be displayed.
The family will receive friends at the funeral home Sunday from 2 to 4 pm, and one hour prior to services Monday.
Online condolences may be shared at www.RalphFScott.com.
In lieu of flowers, please honor Dad's last request: "Google My Name". He will look down from Heaven and say "thanks".
[When viewing the link, please turn on the sound]
http://www.ralphfscott.com/obits/obituary.php?id=496533
*****
If you would like to get in touch with me, Aleksandra, please feel free to contact me at ravnagora@hotmail.com