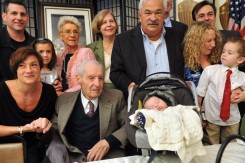 OSS agent [George Vujnovich] who led WWII rescue of 500 dies in NY / AP May 1, 2012
Associated Press
May 1, 2012
NEW YORK (AP) — George Vujnovich, the intelligence agent who organized a World War II mission to rescue more than 500 U.S. bomber crew members shot down over Nazi-occupied Serbia, has died at his home in New York. He was 96.
Vujnovich is credited with leading the so-called Halyard Mission in what was then Yugoslavia. It was the largest air rescue of Americans behind enemy lines in any war.
A long retired salesman of aircraft parts, he died April 24 of natural causes at home in Queens, according to his daughter, Xenia Wilkinson.
The Serbian-American and Pittsburgh native was an officer of the OSS, the precursor of today's CIA, when about 500 pilots and other airmen were downed over Serbia in the summer of 1944 while on bombing runs targeting Hitler's oil fields in Romania, according to U.S. government field station files.
The airmen were hidden in villages by Serbian guerrilla fighter Draza Mihailovich, leader of the Chetniks, whom Yugoslav communist officials considered to be Germany's collaborators.
"This mission would not have succeeded without the great courage of Draza Mihailovich and his brave men," Vujnovich said at a 2010 ceremony in which he was formally awarded the U.S. Bronze Star Medal.
It was no small feat to convince American officials to allow him to work with Mihailovich on the clandestine mission, dubbed Halyard, meaning a rope used to hoist sails. By then, President Franklin D. Roosevelt had decided to follow British Prime Minister Winston Churchill's lead, abandoning support for Mihailovich in favor of the Yugoslav communists, the strongest grass-roots guerrilla force fighting the invading Nazis and Italian fascists.
"Vujnovich is the one who sold the mission to U.S. officials. He pushed hard," said U.S. Army Lt. Col. Steven Oluic, a former West Point professor who prepared the award submission for the Department of the Army.
On Aug. 2, 1944, three OSS agents strapped with radio transmitters were airdropped near Mihailovich's headquarters to set up the operation. Dozens of U.S. military cargo planes flew in over the months to pick up the airmen when they were downed. Serbian villagers had helped them build an airstrip by the village of Pranjani.
The fliers parachuted into a mountainous region where local farmers brought them to their houses and barns. During the next 66 days, the Americans moved each night to a different location so as not to be captured by the occupying Germans.
The story is told in a 2007 book titled "The Forgotten 500," by Gregory Freeman.
http://hosted.ap.org/dynamic/stories/U/US_OBIT_GEORGE_VUJNOVICH?SITE=AP&SECTION=HOME&TEMPLATE=DEFAULT
George Vujnovich dies at 96; leader of daring World War II rescue / "Chicago Tribune" May 1, 2012
Chicago Tribune
By Torsten Ove, McClatchy Newspapers
May 1, 2012
In 'Operation Halyard,' George Vujnovich guided a team of agents to airlift more than 500 airmen from a makeshift runway carved on a mountaintop in Nazi-occupied Yugoslavia.
In 1944, as head of the Office of Strategic Services in Bari, Italy, George Vujnovich guided a team of agents who worked with Yugoslav guerrilla leader Draza Mihailovich to airlift more than 500 airmen from a makeshift runway carved on a mountaintop in Nazi-occupied Yugoslavia.
The World War II air rescue mission, "Operation Halyard," was relatively obscure until the 2007 release of "The Forgotten 500," a book by Gregory Freeman.
"We didn't lose a single man. It's an interesting history. Even in Serbia, they don't know much about it," Vujnovich told the Pittsburgh Post-Gazette in 2008, when he accepted an award from the OSS Society.
Vujnovich died April 24 at his home in New York City. He was 96 and had spent most of his life running an aircraft supply business in the city's borough of Queens and living quietly in its Jackson Heights neighborhood.
The son of Serbian immigrants, Vujnovich was born in Pittsburgh in 1915. After high school, he received a scholarship to study at the University of Belgrade, where he met his future wife, Mirjana Lazich.
In 1941, he witnessed the bombing of Belgrade by the Germans. He and Mirjana fled to Budapest, Hungary, then Turkey and Jerusalem and finally to Cairo as Erwin Rommel's Afrika Korps approached.
In Egypt, Vujnovich found a job with Pan American Airways, which sent him and his new wife to a U.S.-controlled air base in Ghana. When the U.S. entered the war and militarized Pan Am, Vujnovich was commissioned into the Army and transferred to an air base in Nigeria, where he became base commander.
Because of his experience in Yugoslavia and service as an air officer, OSS recruited him to help resistance forces in the Balkans. After training in Virginia, he was sent to Bari, Italy.
There he orchestrated "Operation Halyard."
In the summer of 1944, U.S. bombers attacked the Romanian oil fields in Ploesti that supplied the German war machine. They flew from Italy and across Yugoslavia to get there, but many were shot down. About 1,500 crewmen bailed out over Serbia and were taken in by local villagers and protected by Mihailovich's forces.
Vujnovich devised a plan to get them out, which included secretly building an airfield without any tools, and assembled a team of Serbian-speaking agents to parachute in and lead the effort.
"I taught these agents they had to take all the tags off their clothing," Vujnovich told the New York Times in 2010, when he received the Bronze Star for his efforts. "They were carrying Camel and Lucky Strikes cigarettes and holding U.S. currency. I told them to get rid of it. I had to show them how to tie their shoes and tuck the laces in, like the Serbs did, and how to eat like the Serbs, pushing the food onto their fork with the knife."
The team jumped on Aug. 2, 1944, met with Mihailovich and got to work directing the airmen to build the airstrip.
It was only 700 feet long, barely enough for the 15th Air Force's C-47s to use, but between Aug. 9 and Dec. 27, the rescuers spirited 512 airmen to freedom under the noses of the Nazis.
After the war, Vujnovich settled with his wife in New York City and pursued a career as an independent aircraft parts supplier. He retired in the 1980s and sold the business but continued to work as a consultant until he was 92.
Vujnovich's wife died in 2003. He is survived by a daughter and a brother.
Ove writes for the Pittsburgh Post-Gazette and McClatchy Newspapers.
http://www.chicagotribune.com/news/obituaries/la-me-george-vujnovich-20120501%2c0%2c3533312.story
George Vujnovich is Dead at 96; Led War Rescue / "The New York Times" April 29, 2012
The New York Times
By Richard Goldstein
April 29, 2012
George Vujnovich, an O.S.S. agent in World War II who oversaw the rescue of more than 500 downed Allied airmen from German-occupied Yugoslavia, his parents' homeland, died Tuesday in Queens. He was 96.
His death was announced by his family.
To his friends and neighbors in his Jackson Heights neighborhood, Mr. Vujnovich was a businessman who supplied parts to aircraft companies. But in October 2010, he was formally recognized for organizing one of the greatest rescue efforts of World War II when the Army awarded him a bronze star in a ceremony at the Serbian Orthodox Cathedral of St. Sava in Manhattan.
During a six-month period in 1944, Mr. Vujnovich (pronounced VOIN-ovich), an Army officer serving in the Office of Strategic Services, the forerunner of the Central Intelligence Agency, ran a vast aerial rescue mission that succeeded against formidable odds.
He supervised Operation Halyard (a code name chosen at random), resulting in the rescue of Allied airmen, many of them wounded or sick, who had been hidden from the Germans by villagers and guerrilla fighters in Yugoslavia's Serbian region. Many of the airmen had parachuted from planes shot down during missions to bomb the Romanian oil refineries fueling the German war machine.
Halyard began on Aug. 2, 1944, when a three-man O.S.S. team, taught by Mr. Vujnovich to blend into the local population, parachuted into Serbia to help villagers and stranded airmen carve a landing strip for rescue planes in mountainous terrain at the village of Pranjane.
"I had to show them how to tie their shoes and tuck the laces in, like the Serbs did, and how to eat like the Serbs, pushing the food onto their fork with a knife," Mr. Vujnovich told The New York Times on the eve of his medal presentation, describing his training of the operatives.
The mission, run by Mr. Vujnovich from an O.S.S. station in Bari, Italy, proved flawless. A total of 512 airmen, most of them Americans, were flown to safety in Army Air Forces transport planes based in Italy without a single casualty or the loss of a plane.
The first four C-47 transports sent to pick up airmen at Pranjane arrived at the makeshift, unlit runway at night. But those landings were deemed too dangerous, so later flights were made during the day with large contingents of fighter planes providing cover. The nearest German troops were 30 miles or so away, and the guerrilla army sheltering the airmen secured the terrain close to the airstrip. German aircraft never noticed the runway. Most of the airmen were picked up at Pranjane, but some were rescued from improvised runways elsewhere in Yugoslavia.
George Mane Vujnovich was born on May 31, 1915, in Pittsburgh, a son of immigrants from Serbia. He was studying in Belgrade with hopes of becoming a doctor when the Germans overran Yugoslavia in April 1941.
Mr. Vujnovich married his Yugoslav girlfriend, Mirjana Lazich, a teacher, soon afterward, then fled with her to Turkey, Jerusalem, Cairo and finally West Africa. His new wife went on to the United States while Mr. Vujnovich took jobs in Africa with Pan American World Airways. He received an Army commission there, and the O.S.S., learning of his knowledge of Yugoslavia, soon recruited him.
Mirjana Vujnovich was working at the Yugoslav Embassy in Washington when she learned of reports that Serbian guerrillas were sheltering Allied airmen. She passed the information on to her husband, who put together a rescue plan.
But political problems loomed.
The airmen were being protected by guerrillas known as Chetniks, led by Gen. Draza Mihailovich. But the British and the Americans, believing that Mihailovich was not vigorously battling the German occupiers, supported the Chetniks' internal enemies, the Partisans, led by Josip Broz Tito, the future Communist ruler of Yugoslavia.
President Franklin D. Roosevelt approved the rescue mission, but did not allow Mr. Vujnovich to lead it on the ground, because Winston Churchill did not want him making direct contact with Mihailovich, according to an account in a 2007 book about the rescue operation, "The Forgotten 500," by Gregory A. Freeman.
After the war, scores were settled in Yugoslavia. Mihailovich was executed in July 1946 by Tito's forces, who accused him of collaborating with the Germans, which he denied. He was posthumously, and secretly, awarded the Legion of Merit by President Harry S. Truman in 1948, a belated recognition that he had, in fact, been a strong American ally.
Mr. Vujnovich, who left the military as a major, is survived by his daughter, Xenia Wilkinson; a brother, Peter; and a granddaughter. His wife died in 2003.
Operation Halyard remained classified for many years. After its feats became known, Representative Joseph Crowley, Mr. Vujnovich's congressman, proposed that he receive the bronze star.
Tony Orsini, a B-24 navigator who parachuted into Serbia after his plane was crippled while bombing the Romanian air fields and was rescued in Operation Halyard, attended ceremonies honoring Mr. Vujnovich over the years.
"He was a genius in the way he put the plan together," Mr. Orsini, a retired bank executive, said in an interview Sunday from his Iselin, N.J., home. "He was a hero."
http://www.nytimes.com/2012/04/30/nyregion/george-vujnovich-96-led-rescue-of-airmen-in-world-war-ii.html?_r=1
U.S. Congressional Record honors Major George Vujnovich, Serbian-American WWII veteran of the Halyard Mission
Aleksandra's Note: A sincere 'Thank You' to Congressman Crowley for honoring the contribution of Major George Vujnovich to the success of the Halyard Mission Rescue Operation and for also recognizing the contribution of General Mihailovich and the Serbian people to the rescue of hundreds of American airmen from behind enemy lines during WWII.
Sincerely,
Aleksandra Rebic
SPEECH OF
HON. JOSEPH CROWLEY
OF NEW YORK
IN THE HOUSE OF REPRESENTATIVES
MONDAY, MARCH 16, 2009
Mr. CROWLEY:
Madam Speaker, I am joined by the co-chairs of the Congressional Serbian Caucus, Representatives Melissa Bean of Illinois and Dan Burton of Indiana, in honoring a treasured constituent of mine and one of the unsung heroes of World War II, retired Major George Vujnovich. Major Vujnovich, a proud Serbian-American, was instrumental in 'Operation Halyard' and one of the last surviving members of that successful wartime mission.
In the summer of 1944, Americans and Allied airmen flew hundreds of sorties over Europe with the aim of disrupting the Ploesti oil complex, Adolf Hitler's most important oil pipeline. During their treacherous journey from Italian bases to the Romanian oil complex, 1,500 of our brave men were forced to bail out over Yugoslavia. Scores of American crewmen were trapped behind enemy lines and dependent on Serbian villagers to hide them from the Germans.
Although Yugoslavia was enemy territory at the time, much of the country's Serbian regions remained under the control of Yugoslav guerilla resistance leader General Draja Mihailovich and his Chetnik forces. General Mihailovich remained loyal to the Allies, and under his orders the Serbian people shielded these airmen and protected them from capture and imprisonment by German troops.
General Mihailovich passed information about the downed American airmen to the United States authorities. The Office of Strategic Services (OSS) put together Operation Halyard, a daring mission to save the men without drawing the attention of the Nazis. The mission entailed flying and landing C-47 cargo planes into enemy territory, picking up the downed airmen, and flying back to allied territory. Before the mission could go forward, however, the Allied forces cut ties with General Mihailovich and no longer had specific information about the location of the American airmen. Major George Vujnovich, the OSS operation chief stationed in Bari, Italy, discovered that Mihailovich was hiding the airmen near his headquarters in the city of Pranjani. He informed U.S. officials of their location and Operation Halyard progressed.
As the mission advanced, Major Vujnovich's experience and expertise were indispensable. Major Vujnovich was responsible for selecting members of the Halyard Mission, and orchestrating the initial parachute drop into the area. The rescue plans hinged on his direction and the ability of local Serbs to build an airstrip without any modern tools and without German detection.
'Operation Halyard' took place between August and December 1944 and was a complete success. Hundreds of men were rescued behind enemy lines and no lives were lost in the mission. The Halyard Mission was a success thanks to the brave men and women of the OSS and the courageous Serbian locals who risked their lives to safeguard American airmen. Thanks to a keen mind and tactical expertise, Major Vujnovich demonstrated the courage and selflessness that mark him as an American hero.
Major George Vujnovich was born to Serbian parents in 1915. In 1934 he received a scholarship from the Serb National Federation and left his home in New York to attend college in Belgrade. While living in Belgrade, Mr. Vujnovich met and married his wife, Mirjana. Their life was disrupted in 1941, when the German Luftwaffe bombed Belgrade in Operation Punishment. Mr. Vujnovich was a first-hand witness to the bombing, nearly losing his life when a falling bomb destroyed a nearby streetcar. After the bombing, Mr. and Mrs. Vujnovich fled Yugoslavia, and he accepted a job in Ghana as assistant airport manager while Mirjana moved to Washington, DC to work at the Yugoslav Embassy. When the US entered the war, Mr. Vujnovich received a commission as a second lieutenant and assumed command of an airbase in Nigeria. While working at the airbase, he was recruited by the OSS for the clandestine services, and was later sent to the OSS post in Bari, Italy. From this post he saved the lives of his fellow servicemen and earned the title of hero. I am honored to have this opportunity to acknowledge Major Vujnovich's contribution to the Halyard Mission.
END
http://www.gpo.gov/fdsys/pkg/CREC-2009-03-16/pdf/CREC-2009-03-16-extensions.pdf
Note: Congressman Joseph Crowley, Democrat, is the US Representative for New York's 7th District. He is an Irish-American and the following description of part of his works can be found on the net at http://www.irishamericandemocrats.org/
Collecting personal tributes and memories in honor of Major George Vujnovich
For those of you who have a personal story or memory to tell about Major George Vujnovich who died today, April 24, 2012, and would like to share it publicly, please contact me, Aleksandra, at ravnagora@hotmail.com.
I will be collecting your tributes and posting them here with your name the weekend of May 5-6, 2012.
It is no surprise that George Vujnovich was a beloved man. Every opportunity that I was blessed with to have contact with him, either in person or on the telephone, resulted in a positive experience. George Vujnovich was truly a nice man, a good man, who played an important and positive role in history but was not consumed with his own self-importance. His humility was just one of his virtues.
He will be missed.
Sincerely,
Aleksandra Rebic