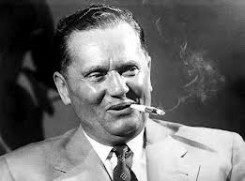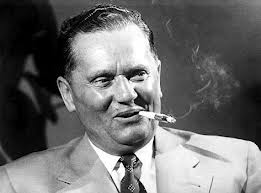 "In the eight months I spent in Yugoslavia with the Partisans, I never once saw them fight the Germans. I heard a continual stream of anti-capitalist propaganda and saw incessant fighting by the Partisans against the Yugoslav peasants to force them to accept Communism."
Joseph Veselinovich,
former American officer who
went on three secret missions
to the Partisans in Yugoslavia
TITO'S RULE WORSE THAN HITLER'S, VETERAN SAYS
Globe Democrat
St. Louis, Missouri
1946
A "reign of terror' and anti-American propaganda in Yugoslavia under Marshal Tito has caused more suffering to the Yugoslavians under the Communists than the Nazis inflicted, Joseph Veselinovich, former American officer who went on three secret missions to the partisans in Yugoslavia, told the Globe-Democrat yesterday.
Discharged four months ago after four years in the Army, Veselinovich first parachuted into Yugoslavia in May, 1944, to establish contact with the partisan troops and organize supply lines for the resistance movement. With the aid of 200 partisan women, the St. Louisan succeeded in building an airport in the mountains near the Hungarian border, only six miles from German lines, for United States planes to fly supplies to Tito's men and carry out the wounded.
"In the eight months I spent in Yugoslavia with the Partisans, I never once saw them fight the Germans," Veselinovich said. "I heard a continual stream of anti-capitalist propaganda and saw incessant fight by the Partisans against the Yugoslav peasants to force them to accept Communism.
A native of Yugoslavia who came to St. Louis in 1929, Veselinovich said that Tito's forces destroyed whole villages of loyal Yugoslavians because they had refused to join the communist movement. He stated that more than 100,000 Yugoslav men, women and children fled to Italy immediately after the German surrender to escape the communists and cannot return to their homes for fear of Tito's "purge."
"While I was in the hills with the Partisans," he said, "I heard the commissars report regularly on strikes in this country, race riots, and predict the fall of American capitalism. They never once mentioned lend-lease aid to Russia and Yugoslavia."
"More propaganda was distributed against the Chetniks than against the Nazis," he reported. "Rumors of Chetnik collaboration with the Germans were spread, but not a single one was proved."
Tito refused to allow UNRRA (United Nations Relief and Rehabilitation Administration) to distribute food and supplies to the liberated people as it did in other countries because he wanted to handle the relief material himself to use it as a political weapon, the St. Louisan declared. As a result, many hungry persons were denied aid.
Globe-Democrat
St. Louis, Missouri
1946