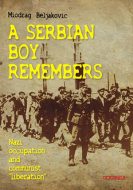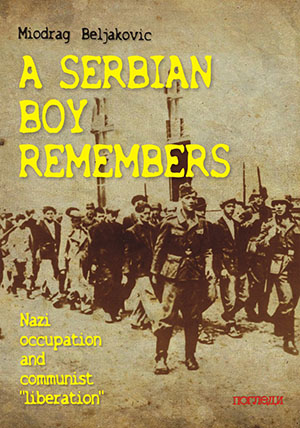 Miodrag Beljakovic: A Serbian boy remembers – Nazi occupation and communist "liberation"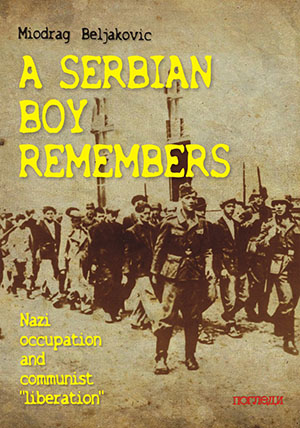 Though occasionally citing information from general historical sources in order to place his recollections in proper context, the author presents life under German occupation in World War II Serbia mainly through the eyes of a child growing up in a provincial town in the interior of the country. The child was obviously precocious and had excellent powers of observation, for which we are indebted to him.
One of the high points of this highly personal but by no means purely subjective story is the October 1941 massacre in the town of Kragujevac of more than 2,300 innocent Serbian civilians by German occupation forces, committed in reprisal for casualties inflicted on a German army column by guerrillas. Though the author's own father, a schoolteacher who happened to be at the wrong place at the wrong time, was executed in this ghastly manhunt Beljaković successfully maintains as much detachment as is humanly possible in recounting the tragic tale, avoiding the temptation to diminish it by sliding into pathos.
The other equally fascinating and, from the perspective of preserving historical memory, vital segment of the memoir is the synthetic but striking depiction of the frightful atmosphere in which, once foreign occupiers were gone, communist "liberators" replaced them to impose their ideologically-driven, homicidal rule. In this as well as other segments of the book Beljaković, now in an advanced stage of his life, is to be commended simply for naming names, from all camps and factions, of the "good guys" and the "bad guys" alike, to the extent that his own memory still serves him and has allowed him to do it. Had he omitted that basic but critically important part of the narrative, in that region of their country the historical memory of the Serbian people would have been seriously impaired.
The tragic fate of author's high school classmate Živa, recounted in some detail in the final pages, is a perennial reminder of man's potential for inhumanity and is emblematic of the inherent beastliness of ideological dictatorships, whatever their color may be.
Stephen Karganovic
212 pages, soft cover, photos, A-5 format.
PRICE: 16€ VAT and postage included (via Airmail + registered postage)
Payment on the Paypal account of documentary-movies@kingdom-of-yugoslavia-in-ww2.com
Please drop an email at pogledikg@gmail.com with the postal adress where to ship your purchase.
ПОРУЏБИНЕ ИЗ СРБИЈЕ ПРЕКО ТЕЛЕФОНА 064/1-880-990, НА АДРЕСУ "Погледи" д.о.о, Немањина 16, 34.000 Крагујевац, или електронском поштом: pogledikg@gmail.com . ЦЕНА: 800 динара. Поштарина укључена у цену.