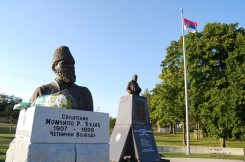 Remembering the great Voyvoda Momchilo Djujich, the legendary Serb commander, on this day, September 11, 2013. Memory Eternal.
Aleksandra's Note: He's one of the "Eternal People". Voyvoda Momchilo Djujich left a permanent mark during his time on this earth, and his legacy will remain alive in the hearts and minds of Serb patriots throughout the world forever into the future. My father, Rade Rebic, was like a son to Voyvoda and served as his loyal Secretary of the Movement of Serbian Chetniks Ravne Gore for many years and his friend and trusted confidant long beyond that.
Voyvoda Djujich was a good Serb, an effective and legendary wartime commander, a true Patriot, and a giant of a man.
Memory Eternal to one of the "Eternal People".
SLAVA MU, I HVALA!
Sincerely,