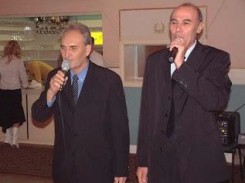 Interview with a living legend – Andrija Bajic
by Olga Petrovic
Most people who grew up listening to Narodna Muzika (folk music) will have heard of "Braca Bajic" (the Bajic brothers). Two brothers, Toma (born in 1935) and Andrija (born in 1938) from Selo Jabučja near Lajkovac, who recorded their first song in 1965 and who are, to this day, still going strong. They continue to compose songs and perform live. In recent months Toma is unable to travel far due to health issues (bring restricted to dialysis three times a week) but they still regularly perform in Serbia.
They have always represented "Prava Narodna Muzika" (real folk music) and are always proud to wear their Narodna Nosnja (National Dress). With compositions such as Pogledaj de mala moja they will always remain a part of the Serbian Music Heritage.
When they opened their first concert during their first ever visit to England in 1991, in a ram-packed Crkvena Sala (Church Hall) in Bradford, both dressed in their Nosnje, with Frula's poking out of their pojas (belt) Toma introduced Andrija as the younger taller one and himself as the better looking one.
In March 2013, Andrija was unanimously voted in as the new Presednik Udruzenja Estradnih Umetnike Srbije (The President of the Performing Arts of Serbia) – which goes to prove how much respect other singers and musicians have for him.
OP: There were seven brothers and sisters in the Bajic family. Did any of your siblings have any talent for music?
AB: Yes, there were four brothers (Vitomir, Momcilo, Tomislav and Andrija) and three sisters (Jovana, Jovanka and Ivanka) and we all had a talent for music. Our father Lazar died in 1941 – one of the first to be killed in the Second World War. Our mother Mileva was aged 40 and left with seven children aged between 16 and 3. Times were very tough for us as a family, we were very poor – I could write an entire book just on this – and we had to grow up very quickly. We went to school and came home to help our Mother and each other with jobs around the family home.
We all enjoyed music (obviously Narodna Muzika) and I remember my three older brothers going to Seoske Igranke (village dances) but as I was the youngest, they wouldn't always let me go as sometimes they would travel a few kilometres and come home in the early hours.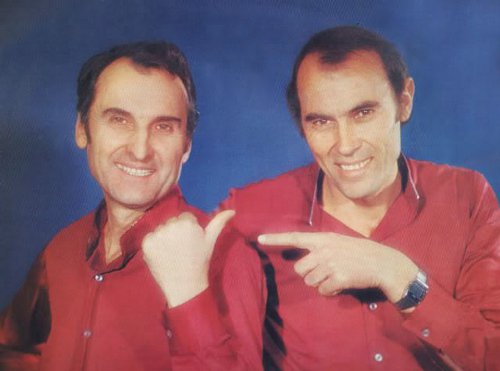 I always used to love listening to Harmonikasi (Accordian Players). I would watch how they played, fascinated and completely entranced by the music. It would ignite my soul. One day, our Uncle bought us a Frula (small wooden flute) from a market. I was 6. Both myself and Toma took it in turns to play tunes on it. Our older brothers Moma and Vita had responsibilities working our land and looking after the animals in place of our father, so didn't have a lot of time for anything else. I remember the first song I learned to play on the frula was Tri livade nigde lada nema.
At that time, Sava Jeremic (1904-1989) was an incredibly popular frula player. His greatest achievement was in 1953 which he won first place at the Medjunarodnom Festivalu Folkora (International Folk Festival) which was held in London, with his piece Paracinka. He would keep his frula tucked inside his patterned woolen sock, come out onto the stage, take out his frula and just play. He was amazing and I knew that one day I wanted to play like Sava Jeremic and at no time then did it enter my head, that I would have a career as a singer.
Later on in our career though, all four brothers managed to record two songs together. They were Oj Ovcare and Ucvtala Lipa i Topola and this was for the Jugoton record Label in Zagreb, as PGP RTB in Belgrade weren't interested in recording us.

OP: How did your career start?
AB: When we finished school (srednja skola) Toma went into the Army and I went to Belgrade to train as a precision engineer. In my college we had a Kulturno Umetnicko Drustvo (KUD) (Society of Performing Arts) and I became very active within it. I remember the lecturers were always asking me to play the frula to them! When Toma finished his time in the Army, he signed up to study medicine but didn't continue as didn't enjoy it at all. He always liked History and Literature.
We signed up as members of KUD "Djoka Pavlovic" in Belgrade and we played as Duet Frula. We met with many singers and musicians some of whom were already famous names on Radio Beograd. The leader of the Orkestra of the KUD at that time was Mile Urosevic.
He would listen to us play and would accompany us and one day he asked us where we'd heard a particular kolo we had played and we told him that we hadn't heard it, we were just playing "anything" and somehow had composed it. This immediately impressed him and he wrote out the music notes for our kolo and this became a part of the Orchestra's repertoire. To this day, this kolo is very popular and played by all musicians and even folkore groups dance to it. The kolo is Kolubarski Vez.
From there, Toma and I took some lyrics that Mile Urosevic had written and we would compose the music for them. The first of which was Duni Vetre s Bukulje Planine. Urosevic liked what we had composed and suggested to a very popular female duet, Milosevic – Aleksic, that they sing this and it was recorded with Ansambl Miodrag Todorovic Krnjevac for PGP RTB in Belgrade. This was a huge achievement for us and the starting point of our career.
From then onwards, Toma would write lyrics, I would compose the melody and we would give the completed songs to famous singers to record and we very quickly gained a good reputation for our work and many people then approached us to write for them.
A few years later, I suggested to Toma that instead of giving our songs to other artists to perform, why didn't we try to sing them ourselves as "artists" were more popular than composers.
We composed four songs: Kroz Sarenu Basticu, Rodjendanska Pesma, Sunce Jarko Granulo and Momkovanje. We approached PGP RTB in Belgrade and asked to record them as they had already released many of our songs that other people had recorded. However, they turned to us and said that although we were fantastic composers, they weren't prepared to "experiment" with us as performers as they weren't convinced that we would make it as singers.
We then approached Jugoton in Zagreb and they agreed immediately to let us record for them, basically saying that "If you're good, it'll be good for you and for us – if not, it was worth trying". Years later, they knew it was as good for us as it was for them. PGP RTB approached us and asked if we would leave Jugoton's label and record for them in Belgrade but we had made a deal with Jugoton and would honour this. That was in 1965 and the start of our recording career.
OP: Do you know how many songs you have composed and recorded?
AB: That's a tough question for us as we didn't keep any evidence in the early days and we honestly don't know how many of our songs have been recorded. We know that there are lots… rather a lot! Even today, new versions of our songs are being sung and recorded and artists think that these are Izvorne Narodne Pesme (Traditional Songs) and don't know that Braca Bajic composed them.
OP: Is it true that you were first to sell 1,000,000 records? And you received a special trophy from Jugoton Records for this?
Yes, this is true. Various singers who had recorded with Jugoton had sold over 100,000 records and Jugoton had presented them with Srebrna (Silver) and Zlatna Ploca (Gold records). When our records began to sell, each one was selling over 300,000 or 500,000 copies and when we reached 1,000,000 sales, Jugoton introduced a new trophy to recognise this achievement which was a "Zlatna Ptica" (Golden bird) and we were the first to ever receive this award.
OP: There was a rumour that you had been imprisoned for some of your songs. Is this true and what was the reason behind it?
AB: Yes, we heard the same rumour! But no, Braca Bajic have never been imprisoned – nor have any other singer at that time, even if some have commented in interviews that they had been fined or imprisoned. This is not true.
Braca Bajic, from 1969 to 1973, were persecuted. Made an example of. We were slated in newspapers, our records taken off playlists with various radio stations and television and a statement was released saying that we were forbidden to perform for any Dom Kulture, in any venue and anywhere publicly.
This ban was only imposed upon Braca Bajic and nobody else.
And Why? Because we sang Obicne Srpske Narodne Pesme (ordinary old Serbian Songs) but mainly because of our song about the railway track between Beograd and Bar entitled Pola Veka Srbadija Ceka (Sitan Kamen do Kamena). This song went against the Communist regime as nobody was allowed to sing about Serbs. We could sing Bosno Moja Divna Mila (a song about Bosnia), O Lijepa Crna Goro (about Montenegro) and Slovenians could sing about Slovenia, Macedonians could sing about Macedonia – but Serbs were not allowed to about Serbia and Croatians were not allowed to sing about Croatia, but it was less of a rule for Croatians. Only for Serbs was it forbidden.
We were on tour in America and Canada which lasted about a month. On our return to Serbia we were instructed to report to the Ministry of Internal Affairs where we were questioned about whom we had performed to and it was then that they confiscated our passports. We were not allowed to travel and we were banned from singing. This lasted for eight months and for this time we were conceived as Yugoslavia's greatest enemies and traitors as we collaborated with Cetniks and war criminals. This was an incredibly difficult period for us. Our friends were unable to contact us as they were not allowed to be seen liaising with traitors as this would harm their own careers.
At the same time Predrag Zivkovic Tozovac and Predrag Gojkovic Cune were also branded "traitors" but they were lucky enough to have contacts who helped them escape the same sentence that was imposed upon us.
After eight months we were called back by the Ministry of Internal Affairs and were told not to "take offence" that they had done this. They had received information that they needed to act upon and investigate and of course, nothing came of it and our passports were duly returned to us. We asked the inspector what on earth we were supposed to do now, as we'd been black-listed by everyone under their instructions and he said that all radio and TV stations were now able to play our songs as the ban had been lifted – but it took a good 2-3 years for us to be back on the scene fully.
OP: Do you have a favourite song that you enjoy singing?
AB: No, not really. Toma and I are very very different. Toma likes songs with fast tempos and I like the slower songs. Slower songs are harder to sing and I think it shows the talent of a singer off more. For example, all Sevdalinke (Bosnian Love Songs) are songs sung with immense emotion. I particularly like to sing Pred Senkinom Kucom, Tiho Noci and Zelen Lisce Goru Kiti but these aren't songs of speed and rhythm, and can only be sung depending on who you are performing to and the ambiance of the performance.
OP: Do you always agree with one another? Who considers themselves the boss?
AB: Hahahaaa… No, we don't always agree with each other. Despite being brothers, we are two very individual guys – and that is normal. We have never argued over things like money, or been jealous of each other but we have definitely argued over songs! Toma wants something done one way, I suggest another. He is the stronger song writer, where I play the accordion and understand more on the music side and sometimes our ideas clash.
Neither of us is the "boss" but in the early days of our career, somebody would approach Toma to book us to perform, he would forget to tell me and I would take a booking from somebody else for the same day – and we would honour both events and speed across Serbia to make sure we didn't let anybody down. When this happened a second time, we agreed that all bookings would be my responsibility.
OP: You have travelled and performed in hundreds of venues around the world. What do you remember the most? Was there any country you particularly liked performing in?
AB: Indeed, we have travelled a lot. Twenty five times to America and Canada, sixteen times to Australia and I've lost count how many times we've performed across Europe and in England. Again, we didn't think to keep evidence of all of our performances.
It's difficult to say that we preferred one place over another, as we have made lots of good friends along the way in everyplace that we have visited. If we decided tomorrow to travel to another country, believe me when I tell you that we could easily stay for a year going from one friend to another. We are very blessed that we have made so many good friends around the world. This truly is the wealth of our career. The people we have met along the way have always been important to us.
I am also very lucky that I have a fantastic family who have also supported what I do. The only sadness I have is that my beautiful wife Jelisaveta passed away of Lymphoma (Cancer) in 2002. She was an amazing lady. Very understanding and supportive. She held my own family together whilst we were away touring and I was saddened deeply by her death. She will always remain in our hearts and although it has been ten years, her key to our house still remains by the door.
For me personally, I am very proud that my family kept my feet firmly on the ground. My wife and I have three daughters and we now have four grandchildren. We are a close family and I am incredibly proud of them all – With my eldest grandson son, Vukasin, is currently in his third year studying to be a dentist, my granddaughter Mina who has a sports scholarship in America (for basketball) and with Nikolas and Filip.
It would be an easier journey for me if my wife was still alive to share this with me as we were married for 37 years and her death, understandably, affected us all greatly. I visited her grave every day for a year after her death, as I still had things I wanted to talk about with her but one day our priest, Prota Mile Petrovic, sat me down and explained that he could see the pain and void her passing had left but I needed to leave her soul to rest in peace and carry on my life for the sake of my family – and I knew that that's what I had to do.
OP: Do you have any funny or private stories that you are willing to share with us from your many travels?
AB: Yes… as you can imagine, there are lots of scenarios that have happened to us over the years. One private thing that people maybe don't know is that during the time of Communism we went to tour America and Canada. However, we weren't allowed to stay at anybody's house as they too would've been considered a traitor. So whilst in Hamilton, Canada, in a town called Winona where many Serbs lived, there was a large Cetnik Dom and we had arranged with two friends for them to collect us at two o'clock one morning, so that we could visit and see the Cetnik Dom. That's how it had to be – very secretive, so that nobody knew that we had been there. We were overjoyed to see pictures hung proudly of Vojvoda Djujic and Cica Draza. This was of huge interest to us, not simply because they were Cetnici, but because we were forbidden to have contact with these "organisations" and this made us more determined to visit them.
With regards to something funny happening…. We could seriously write a book about them all as there were so many and I'm not sure which one to tell you! Again, we were on tour in America and Canada. Braca Bajic, Era Ojdanic, Dusica and Nedeljko Bilkic and the Harmonikas Velja Zivkovic. I was in charge of looking after tickets, passports, and the money that we had earned whilst on tour – basically everything important, which I kept in a bag with me at all times.
We called into a shop called "Karavan" in Toronto which sold Yugoslavian records and tapes. I was standing near a big box full of old records, looking through them to buy some and I put the bag (with all of the passports and money etc) down next to me. After a few minutes, I realised that it had gone. I thought that my heart was going to explode with panic. There were quite a few customers in the shop and I hadn't seen who had approached me. But everything was in that bag.
I asked the owner of the shop, Gospodin Voja, to lock all of the doors, not to let anyone leave and to urgently call the police. Everyone was looking at me wondering what on earth had happened! – At which point, I saw Era Ojdanic's big eyes as he poked his head out from behind a box laughing guiltily at me. He had stolen the bag! I wanted to kill him!
I got my revenge when we next went on tour to Australia. When Era wasn't looking, I neatly wrapped up two bricks in carrier bags, and hid them at the bottom of his suitcase under his clothes and personal belongings. He didn't realise at all and carried them across the entire country. It was only when we were at the airport coming home that the police stopped him after seeing the bricks in his luggage through the X-ray machine and he knew immediately that it was me.
OP: What are your thoughts on today's Narodna Muzika (Folk music)?
AB: Unfortunately, today's Narodna Muzika is in murky waters. Instead of beautiful live instruments, everything has turned electronic and done on computers. Today's singers do not have the opportunity to record live with an Ansambl of musicians, where everything's blends beautifully together. Today, the music is recorded, a singer turns up, sings, effects are added later, some voices have to be altered so that they are actually in tune and the singer will then only perform on TV by miming to "playback". If they had to sing live with an orchestra it would be a KATASTROFA.
Don't get me wrong. It's not all singers and I have nothing against music moving forward with today's technology – we can't listen to Cuvam Ovce all of the time and we can't always listen to the same singers, Bajici, Lepa Lukic, Tozovac or Miroslav Ilic.
We need to move with the times. We need young new singers. But we need talent and not just people who have money and the looks to make a CD. New composers are also heavily influencing our traditional music with Indian, Turkish, Greek (to name but a few) blends but then state that they are the composer and pass it off as Serbian music.
In America, they have a TV channel which exclusively plays traditional music non-stop. On the big stations In Serbia, you"d be lucky to see one "older" singer once a year singing old traditional songs.
OP: What is next for Braca Bajic?
AB: Braca Bajic recorded their first record in 1965, so our career spans over 47 years. For us this is an amazing achievement. Even today, if we are asked to perform this is a huge honour for us and we are extremely satisfied with the amount of work we are still doing. We have recently been asked to put together a compilation of three CDs of our songs and kola as we are always being asked how people are able to get hold of some of our older songs.
A lot of these songs are now on YouTube and the comments that we receive are incredibly supportive.
There are always opportunities for us and we will continue our work as long as people are interested in what we have to offer. If the day comes that people are no longer interested in Braca Bajic, it wouldn't be difficult to bow out, as we have already reached incredibly high points in our career.
OP: Would you do it all again?
AB: Even as performers we continued working, as we didn't know whether we would make it as singers, so it made sense for us to keep our feet on the ground. However, even if I had five diplomas and five qualifications in Engineering, if it wasn't for our music, we would never have had the opportunities to travel, to see the world and we would've have met the amount of people that we met from different cultures and backgrounds. I could sit and tell stories all day long about things that we have seen around the world – as this was a massive education for us.
We are both incredibly happy with our career, with the quality and quantity of songs that we have composed, which will continue to be performed long after we have gone. We are household names in a lot of countries and know that our songs mean so much to so many people. If you go to any concert or wedding, we can guarantee that you will hear at least one of songs being performed, Pogledaj de mala moja, Koja Gora Ivo, Nad izvorom vrba se nadnela to name just a few.